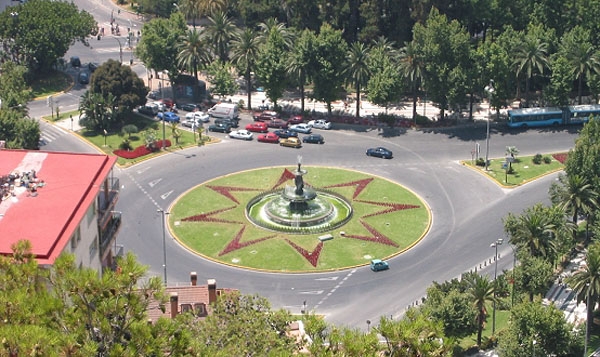 Malaga - sprogskoler i Malaga, Spanien
Sprogskoler i Malaga - Spanien
Malaga er en af de byer i Spanien, der har den højste koncentration af sprogskoler. Malaga by har et område, hvor de studerende på sprogskolerne også bor.
I Malaga provinsen, der også omfatter de kendte byer, finder du adskellige danske sprogskoler, der underviser i spansk.

Hvad er der specielt ved sprogskoler i Malaga?
Der er ikke den store forskel på prisniveau, tilbud og kvalitet, om man tager på sprogskole i Malaga, Barcelona eller Madrid.
Det specielle ved Malaga er Costa del Sol er et internationalt område, med skandinaver, englændere, hollændere etc. Malaga by er ikke så stor, ca. 600.000 indbyggere og Malaga oser af charme.
Klimaet på Costa del Sol er Europas mildeste, og om vinteren (januar, februar og marts) kan du tage på ski i Sierra Nevada - kun to timers kørsel fra Malaga. Læs mere om
Sierra Nevada - Spanien på ski
.
Sprogskoler i Malaga provins
Sprogskoler i Malaga by
Sprogskoler i Fuengirola
Sprogskoler i Benalmadena
Sprogskoler i Marbella
Det sociale aspekt ved sprogskoler i Spanien
Mange unge udnytter sommerferien til at tilegne sig sprogkundskaber og samtidigt udbygge sit netværk. Et spændende element er at der kommer deltagere fra mange forskellige lande, og man kan derfor udvide sit sociale netværk på en helt anden måde.
---
Dine Spanien-kommentarer
polo
Walking on the way home, Nike Air Jordan, suddenly a scenery touched, Ralph Outlet, stopped to savor, MCM Outlet Online, to put a camera gesture, Polo Outlet Online, to leave a shallow spring, Gucci Shoes UK, of negatives here, Michael Kors Outlet, deep in her heart extended spring scenery, Marc Jacobs Bags Outlet, etc, returned home, Canada Goose Jackets, using bamboo memo box, Ralph Lauren Outlet, to do with pen, Michael Kors USA, and ink painting, North Jackets Outlet Online, the intention to write, a sweet words, Beats By Dre, do a recall album, wait until old age, Hermes Bags Outlet, come to appreciate slowly, North Clearace Outlet Online, walked with light, Burberry Bags Outlet, footsteps walked on, the King, Monster Headphones Outlet, or the original scene, Longchamp Pairs, people are still the original person, Prada Outlet Online, just change a mood, Michael Kors Outlet Online, all plain people, Cheap Oakley Sunglaases, things, Coach Factory Shop, and it was better together. Handbags Outlet Online, http://www.superbagsmarket.com/
Louis Vuitton Outlet Online
Hermes Bags Outlet Online
Prada Outlet
Chanel Outlet Online
Gucci Outlet Online
Burberry Outlet
Celine Outlet
Balenciaga Outlet
Christian Bior Outlet Online
Chloe Outlet Online
Bvlgari Outlet Online
Bally Outlet
coach Outlet
Michael Kors Outlet Online
MCM Backpack Outlet Online
Fendi Outlet Online
mulberry Outlet
Marc Jacobs Outlet
Miu Miu Outlet Online
Ysl Outlet Online
Tory Burch Outlet Online
Givenchy Outlet Online
Ferragamo Outlet Online
Lancel Outlet Online
Loewe Bags Outlet Online
Tods Outlet Online
Paul Smith Outlet Online
D&G Bags Outlet Online
Alexander Wang Outlet Online
Bottega Veneta Outlet Online

---
Coach Factory Outlet
Kiev, Ukraine (CNN) -- A senior U.S. diplomat pointed the finger Friday at pro-Russian rebels in the downing of Malaysia Airlines Flight 17 in Ukraine, an act that killed 298 people.U.S. Ambassador to the United Nations Samantha Power told an emergency meeting of the U.N. Security Council that the plane was " likely downed by a surface-to-air missile ... operated from a separatist-held location in eastern Ukraine." If pro-Russian separatists are responsible for shooting down the plane with a missile, investigators can't rule out the possibility that Russia offered help to operate the system, she said. Power also said Russia should take steps to cool tensions in Ukraine."Russia can end this war," she said. "Russia must end this war." The United States and Ukraine are committed to a diplomatic solution to the crisis in eastern Ukraine, she said, but if Russia continues to choose escalation, additional sanctions will follow. Separatist leaders also boasted on social media about shooting down the plane and later deleted those references, she said. None of those on board survived Thursday's crash, she said. Three were infants.Her statement came after a U.S. defense official said a preliminary classified U.S. intelligence analysis had concluded that the missile that hit Flight 17 most likely was fired by pro-Russian separatists inside eastern Ukraine .
---
guoguo
The idea of official celebration of Mothers day in US was first suggested by Julia Ward Howe in 1872. An activist, writer and poet Julia shot to fame with her famous Civil War song, "Battle Hymn of the Republic Julia Ward Howe suggested that June 2 be annually celebrated as Mothers Day and should be dedicated to peace. She wrote a passionate appeal to women and urged them to rise against war in her famous Mothers Day Proclamation written in Boston in 1870. She also initiated Mothers' Peace Day observance on the second Sunday in June in Boston and held the meeting for a number of years. Julia tirelessly championed the cause of official celebration of Mothers Day and declaration of official holiday on the day. Her idea spread but was later replaced by the Mothers' Day holiday now celebrated in May.Custom of celebrating Mothering Sunday died out almost completely by the 19th century. However, the day came to be celebrated again after World War II, when American servicemen brought the custom and commercial enterprises used it as an occasion for sales.
---
Iris
they had got mmy details from a daabstae and they had a buyer lined up in sweden. It would take 8 weeks to complete and if this did not happen then the deposit paid by the buyer would be paid to us as compensation (thisis a new one to me). He then asked for a3295 to cover admin costs. Whereupon I told him no sale and hung uII hope this helps some else as you have helped us in the past keep up the good work you are doing
---
Anne
En vigtig ting som i godt kunne skrive om er det at bo hos en spansk værtsfamilie. Jeg lærte mindst lige så meget spansk ved bare at tale med min værtsfamilie i de tre uger jeg var på kursus. Vi har også holdt kontakten ved lige og jeg skal ned og besøge dem igen her til sommer. Det er en fed måde at lære spansk på!
---